Description
Stainless steel pickling tank- 3,5 Liters
This pickling tank is equipped with a stainless steel basket. 
The bath is heated by a thermostatically controlled element with fixed temperature setting (70°C), ensuring that the appliance is always ready for use. 
Made in Italy. 
Technical specifications:
External Dimensions: mm 280 x 175 x 210H.
Tank Size: mm 240 x 137 x 110H.
Tank Capacity: 3,5 Liters.
Power Supply: 230V - 50/60 Hz.
Heating Power: 150 Watt. 
Pickling is a procedure used to remove the film of black oxidation which forms on the surface of metals after high temperature casting.
You might also like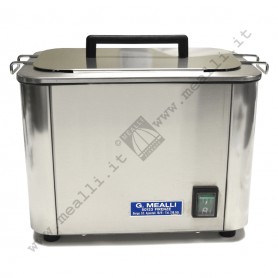 Customers who bought this product also bought